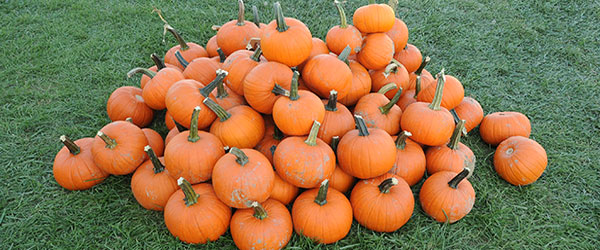 There is a good chance the pumpkins you carve, use as ornamental fall decorations or as pie filling for your holiday treats came from Central Illinois.
Illinois leads the nation in pumpkin production, with a swath of land near Peoria producing most of the state's pumpkin crop. Morton, Illinois is commonly referred to as the "Pumpkin Capital of the World", hosting the annual Morton Pumpkin Festival and home to a Libby's pumpkin processing plant.
The state produced a record 278,000 tons of pumpkin statewide last year, far ahead of second place California and accounting for 90 percent of the nation's pumpkins. The increase in production in the last few years has economic impacts that are felt across the state with almost $33 million in farmers' cash receipts -- nearly double since 2005.
The factors behind Illinois' dominance in pumpkin production can be traced to an amiable climate, high-quality soils needed for pumpkin growth and the several processing facilities located here.
The recent growth in pumpkin products only cements Illinois' lead in pumpkin production. Between 2008 and 2012, restaurants with a pumpkin-based dish on their menu increased by more than a third.
Learn more:
U of I Pumpkin Facts
Illinois Ag Department Pumpkin Stats
Illinois: the Great Pumpkin State
Illinois farmers put the pumkin in your Thanksgiving pie
Pumpkin popularity grows