NASA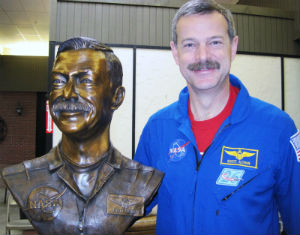 inducted Pekin native Captain Scott Altman into the U.S. Astronaut's Hall of Fame on April 21 with a ceremony at the Kennedy Space Center Visitor Complex. Altman is one of 98 other American astronauts to receive that honor, including Neil Armstrong, John Young and Gordon Fullerton.
Altman began his journey at Edison Junior High School in Pekin before continuing his education at the University of Illinois Champaign-Urbana. There he studied aeronautical and astronautical engineering before joining the Navy and rising to the rank of captain. He later earned a Master of Science degree in aeronautical engineering from the Naval Postgraduate School.
He earned his Navy wings of gold in February 1983. He has also been awarded the Distinguished Flying Cross, the Navy Commendation Medal and was given the award for outstanding achievement in Tactical Aviation by the Association of Naval Aviation. Altman is also famous for his flights in the movie "Top Gun" where he played the role of an F-14 pilot.
Altman traveled to space on four separate shuttle missions, totaling more than 51 days in space. He has always had an interest in science, research, flight and space and has made great strides in studying the effects of microgravity on the human brain and nervous system.
Altman retired from NASA in 2010 and has since been working with ASRC Federal Holding Company to continue studying space exploration.
Altman's hometown recognized his accomplishments by naming an elementary school after him, Altman Primary School.
The U.S. Astronaut's Hall of Fame was established in 1990 by the six surviving astronauts from Mercury 7 to honor outstanding astronauts for their scientific and aeronautical achievements. To be considered for induction into the hall of fame, an astronaut must have made their first flight 17 years before being inducted, served as a NASA trained commander pilot or mission specialist, and have orbited Earth in space at least once.