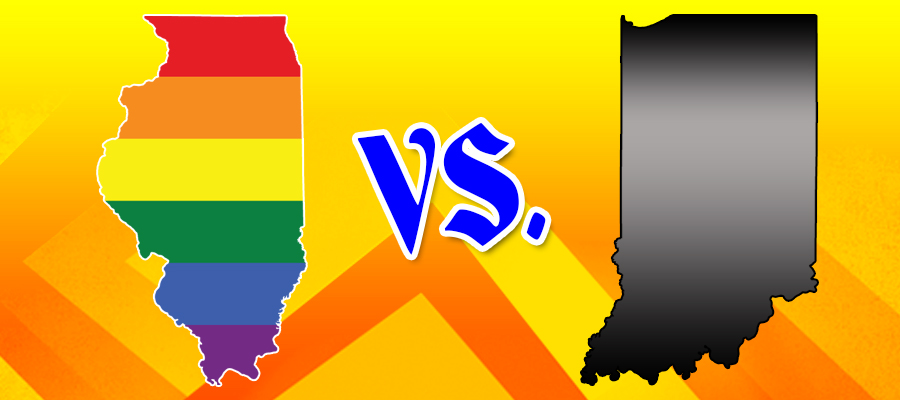 As Indiana spends millions of taxpayers' dollars in a public relations scramble to salvage its reputation in the wake of ill-fated policies promoting intolerance, a different scramble is going on in neighboring, inclusive Illinois.
Illinois wedding planners find themselves busy trying to keep up with newfound demand following enactment of marriage equality laws.
"We're a small and new business, so we're seeing growth," said Cindy Savage, co-owner of Crafty Broads, a new Chicago wedding boutique. "I'd say half of our business is in that (LGBT) segment of the market, and that's really exciting."
Cook County, the state's largest county, got a head start on marriage equality, offering same-sex couples marriage licenses in February 2014. In the first year, Cook County reported more than 6,500 same-sex couples tied the knot, many traveling from across the country to have their ceremonies in Chicagoland. For comparison, the county annually issues roughly 32,000 marriage licenses to opposite-sex couples.
Statewide recognition of same-sex marriage began on June 1, 2014.
A www.ILikeIllinois.com staff survey found many counties do not separately count same-sex marriage since the official marriage licenses are the same. However, the survey and recent media reports indicate that hundreds of couples outside Cook County are utilizing the new Illinois law.
For example:
Champaign County reported issuing 278 marriage licenses for same-sex couples.
Lake County reported issuing 241 marriage licenses for same-sex couples.
Kane County reported issuing 124 marriage licenses for same-sex couples.
Winnebago County reported issuing 49 marriage licenses for same-sex couples.

With weddings often costing thousands of dollars, those new marriages translate into a great deal of economic activity.
A 2013 study predicted that extending marriage rights to same-sex couples in Illinois would generate more than $100 million in spending for state and local economies in the first three years. UCLA Law School's Williams Institute conducted the study of Illinois and other states.
Specifically, the study predicted the following economic impact during the initial three years:
The state's wedding business would see an increase by $74 million, and an increase of $29 million in tourism expenditures made by out-of-town guests during the same period.
Total state and local tax revenue would rise by $8.5 million, including an estimated $1 million to $2 million in local sales taxes. The first year would produce $5.4 million of this spending.
The boost in wedding spending will generate approximately 281 jobs in the state.

(Read more about the study here: http://williamsinstitute.law.ucla.edu/press/press-releases/illinois-extending-marriage-to-same-sex-couples-could-add-up-to-103-million-to-state-economy-and-8-5-million-in-state-and-local-tax-revenue/#sthash.ZFmNliW0.dpuf)
It's important to note that both Illinois and Indiana are marriage equality states.
However, the two states took very different paths in finally offering that basic right to the gay, lesbian, bisexual and transgendered communities. And the neighboring states have very different perceptions and reputations given recent events.
In Illinois, marriage equality was the final step in a decades-long effort to advance equal rights. In building up to it, Illinois lawmakers had passed anti-discrimination laws, anti-bullying laws and civil union rights. The Illinois Senate led the way, voting to first approve same-sex marriage on Valentine's Day in 2013. Ultimately, the law won bipartisan support.
In contrast, in Indiana there have been repeated recent legislative efforts to ban gay marriage by amending the state constitution. The Hoosier State had a law banning same-sex marriage, but last year a federal court struck it down, bringing marriage equality to the state despite its political leaders' wishes to the contrary.
Indiana's policies were again in the spotlight in recent weeks after the governor and Republican leaders in the state legislature passed and enacted so-called religious freedom laws that were perceived as opening the door for discrimination against gays and lesbians.
The new law brought national controversy. Numerous businesses and organizations ranging from Apple Inc. to Eli Lilly and the NCAA to NASCAR voiced their opposition. Several groups threatened to cancel conventions in Indiana.

With the economic fallout mounting, the Republican Indiana governor reversed course and sought a change to the law in an effort to end the controversy. But the damage was done and the state recently announced it was spending $2 million to hire a PR firm to help repair its image.

Bernard Cherkasov is chief executive of Equality Illinois, the leading advocacy organization for gay, lesbian, bisexual and transgender Illinoisans. He says policies of inclusion make good economic sense, a lesson Indiana continues to learn the hard way.
"When we were considering the Human Rights Act amendments in 2005 and the (2014) marriage equality law, something that we saw that was so inspiring is that all these Fortune 1000 corporations that are based in Illinois, they began to take positions in favor of those changes," Cherkasov said.
"At the end of the day," he said, "if we care about job creation then there's a way to get at job creation by being a more inclusive state. If we care about boosting the economy, there's a case to be made for boosting the economy."