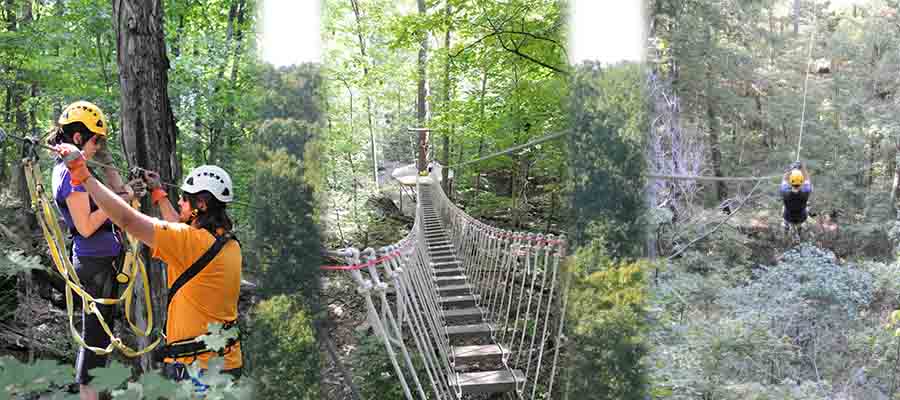 The idea to build a zip line business in Southern Illinois first came to Marc Miles after he built a zip line in his backyard for his children. Miles started looking into the growing popularity of zip lines around the world and his research and interest led him to open Shawnee Bluffs Canopy Tours in 2013.
Located on 83 wooded acres in Makanda, Shawnee Bluffs is Illinois' first entirely tree-based, eco-friendly zip line canopy tour. The tour consists of eight zip lines, the longest stretching more than 1,100 feet, which take visitors through the canopy of the forest, off the property's bluffs and through its breathtaking valley. Also included are 11 platforms high in the trees, three aerial suspension bridges and two short ground hikes. Participants can exceed speeds of 40 MPH on the zip lines.
A state grant literally helped get the business off the ground.
"We're told that for every tourism dollar the state gives out, it gets six dollars back in some form or fashion," said Miles. More than 8,000 adventure-seeking customers have come through the doors since the business opened a little more than a year ago.
The company employs up to 20 people in Southern Illinois and the zip line guides have completed comprehensive safety training. The business helps generate tourism dollars in the region, with tourists coming from around the nation and the world for the thrill of zip lining through the Shawnee National Forest and then staying to enjoy other activities such as the regions numerous wineries.
Owner Marc Miles explains how the Shawnee Bluffs Canopy Tour utilizes environmentally friendly platforms to facilitate his zip line business.