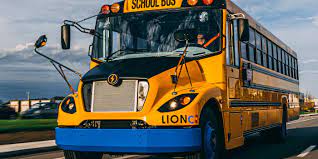 Ms. Frizzle and her magic school bus can make way, Illinois has made a new, impressive bus to take students to and from school. Lion Electric announced on Nov. 2, 2022 that they had produced their first American-made LionC zero-emission electric school bus at their factory in Joliet, located in Will County.
Lion electric selected Joliet in May of 2021, providing new job opportunities to the area. Over the first three years of its presence in Will County, Lion Electric will create over 800 new jobs, and then a total of 1,400 jobs with in the first six years. Lion Electric is in Will County to stay and provide permanent jobs to many residents. Now, they are providing environment friendly transportation to our students. Lion Electric has always been dedicated to moving towards electric vehicles, sustainability and decreasing the overall environmental impact transportation has. This dedication has paid off as they put over 700 electric vehicles on the road, supporting commuters and students as they traveled over 10 million miles. Joining that number is the new, electric school bus thanks to the manufacturing site in Joliet. Illinois is devoted to the fight against climate change and helping our environment, and Joliet is a foreground in that fight.
Lion Electric expects the Joliet factory to have an annual production capacity of 20,000 buses and trucks after scaling their manufacturing operations. Joliet will first focus on manufacturing electric school buses, as there has been a nationwide surge in demand for electric buses. Several cities and states have committed to transitioning to electric school buses. The Climate and Equitable Jobs Act, passed in Illinois General Assembly in 2021, increased support for electric transportation, aiming to put 1 million battery-powered cars and trucks in Illinois by 2030, and included incentives for electrifying Illinois school buses. One step towards Illinois' goal has been made as this LionC zero-emission electric school bus will be used at Troy Community Consolidated School District 30-C in Illinois. Joliet has been a key player in meeting this goal, and will serve a vital role in the future of Lion Electric and the future of sustainability in the nation.
School districts in Illinois and around the nation are looking to decrease their impact on the environment by moving towards electric school buses. Lion Electric has committed themselves in helping school districts in that transition. The first LionC zero-emission electric school bus is a positive step towards achieving that goal. The buses may not contain real magic like Ms. Frizzle's, however the impact Joliet's electric school buses will have on the environment and economy almost seems magical.
To learn more about Lion Electric and their LionC zero-emission electric school bus click here.