Published: Wednesday, March 28, 2018 08:40 AM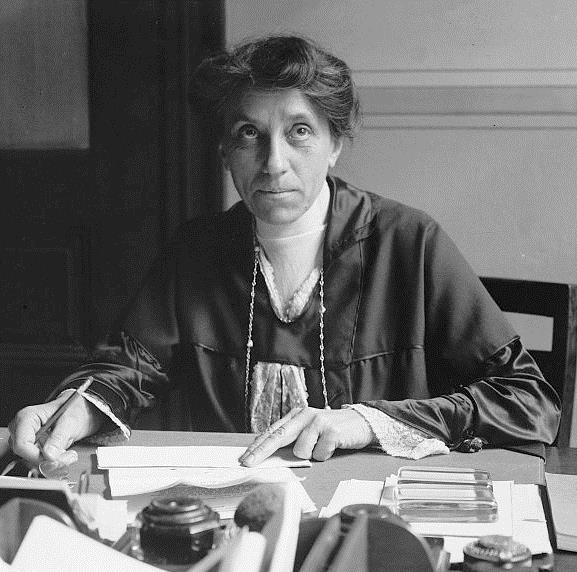 Did You Know? Julia Clifford Lathrop, an American social welfare worker, was the first woman to ever head a United States federal bureau.
Lathrop was born on June 29, 1858 in Rockford, Illinois. Her father was a lawyer and friend of former president Abraham Lincoln. He served in the state legislature (1856–57) and Congress (1877–79). Her mother was active in women's rights activities in Rockford and was a graduate of the first class of Rockford Female Seminary, where Julia would later attend.
Julia attended Rockford Female Seminary (following in her Mothers footsteps) where At Rockford Female Seminary, Lathrop met future women's rights and social activists Jane Addams and Ellen Gates Starr. After one year, she transferred to Vassar College , where she studied statistics, institutional history, and sociology and community organization. She graduated in 1880, and went on to help out in her father's law firm as a secretary, though her interest in reform movements grew. Ten years later, Lathrop moved to Chicago where she joined her old friends Jane Addams and Ellen Gates Starr s at the Hull House, a settlement house for recently arrived European immigrants.
Lathrop was appointed as the first female member of the Illinois Board of Charities by Governor John P. Altgeld in 1893.. During this time she inspected all almshouses and farms in the 102 counties in the state. During the winter of 1893–94 she was asked to inspect the county charity institutions. The treatment of the mentally ill patients was rather disturbing to her, as patients who were mentally ill were often put in the same room as those who were physically ill.
In 1912, Lathrop was appointed the first bureau chief of the newly created Children's Bureau. While Julia was the director of the bureau, her unit focused on reducing infant and maternal mortality, improving child health and advocating for trained care for children with disabilities. Under her leadership, the bureau created child welfare policy and led to its implementation. The bureau also worked to abolish child labor.
Because of Lathrop's leadership, a residence hall at Rockford University and an elementary school in Rockford were named after her. The Chicago Housing Authority also opened the Julia C. Lathrop Homes, a public housing project in the North Center neighborhood on Chicago's north side. Lathrop's governance over the Children's Bureau changed many lives and will forever be a testament to her humanitarianism.