Published: Thursday, July 13, 2017 03:02 PM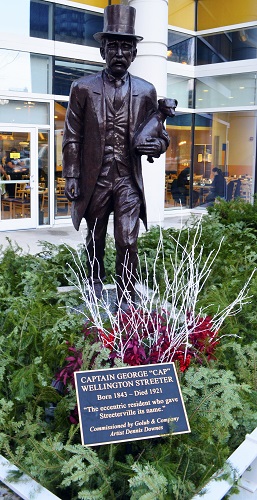 This week in 1886, Captain George Wellington Streeter crashed his steamboat into a sandbar in Lake Michigan, beginning one of the strangest, most colorful sagas in the history of Illinois that led to the founding of one of Chicago's most famous neighborhoods.

The Reutan was a 35-ton steamboat piloted by boatman, Civil War veteran and circus owner "Cap" Streeter, who was returning to Chicago from Milwaukee. Streeter's boat ran aground on Lake Michigan near the present-day intersection of Fairbanks Court and Superior Avenue in Chicago on July 11, 1886. At that time, the city had not yet expanded to the east. According to Cap and his wife Maria's official statements, the Reutan was badly damaged by a storm when the wind and waves carried her to rest about 450 feet from shore.

The Streeters remained in the Reutan and invited local contractors to dump debris from the Chicago Fire, which had ravaged the city 15 years earlier, near the sand bar, creating a landfill which they claimed as their land. They named their 186 acres the District of Lake Michigan, which they claimed was a federal district independent of the state of Illinois. It was not until three years later that authorities would attempt to physically remove the Streeters from their land. With loaded rifles, George and Maria drove five constables out of the District of Lake Michigan.