Published: Friday, February 03, 2017 08:58 AM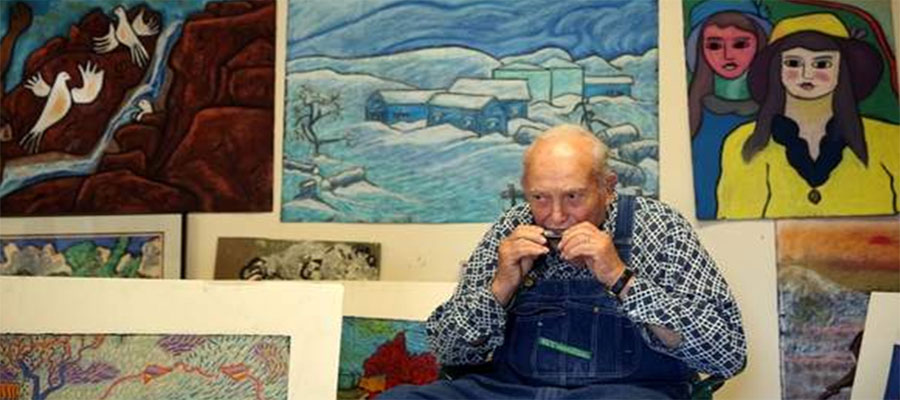 SALISBURY ─ George Colin was a folk-artist sensation. He left a wonderful legacy and beautiful treasures behind when he passed. His work is full of bright colors, animals, nature and abstracts. His paintings of Illinois farms are infused with Prairie State pride.
In 1990, his paintings were presented to President George Bush by Illinois Governor Jim Thompson. President Bush was so impressed by his work that he sent a letter to Colin expressing his pleasure.
Colin's art stands as a testament to his creative genius and love of life. His art has found its way into metropolitan galleries and everyday homes. Winnie Colin, his wife of nearly 48 years, told The State Journal-Register on Wednesday that the time has come to sell some of her husband's works, as well as other items the couple collected during their years together.
Since 2014, many of his paintings, sculptures and other artworks were on display at his gallery on Mill Street in Salisbury. The sale will be held at the same gallery this weekend, giving art lovers a chance to celebrate the life and work of George Colin, a renowned artist and devoted husband.
The art sale is semi-chronologically ordered to document the life of George Colin. There are image previews of some of Colin's artwork on The State Journal-Register's website.
\Who: Colin Folk Art
What: The life and work of George Colin
Where: 6111 Mill Street, Salisbury, IL 62677
When: February 4-5
For here more information about Colin Folk Art's sell.
Click here for original artist post.