Published: Wednesday, April 22, 2020 03:13 PM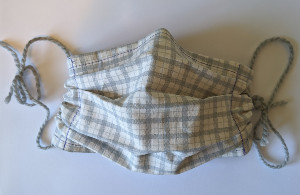 In the midst of the global COVID-19 pandemic, widespread face mask shortages are putting front line workers across Illinois at risk. Novias Davila bridal shop in Little Village has joined the fight against the spread of the virus by using their sewing expertise to produce cloth masks for jails, hospitals and many other frontline service providers.
Novias Davila, located at 3535 W. 26th St., has been making bridal dresses for over two decades. The business has always been active in the Little Village community, so when the governor's Stay at Home Order went into effect, manager Patty Navarro said simply closing up shop wasn't an option.
"We heard on the news that there was a shortage of masks and we really wanted to help our community the only way we know how," said Navarro. "So we started making masks in a way to help our community overcome this."
The small team of eight has been hard at work. According to their Facebook page, from March 20, to April 17 they produced and donated over 17,000 masks.